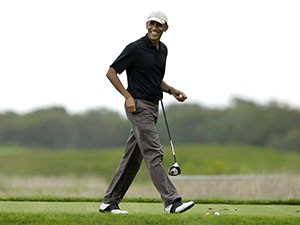 Earlier this month, two television spectaculars entertained tens of millions of viewers. One was political, the Republican Party's maiden debate in the presidential sweepstakes limited to only "natural born" U.S. citizens (Ted Cruz hopefully is listening.) The other was the PGA Championship, one of golf's annual four major tournaments with an international field of world-class players.
The GOP debate was a two-course delight in which showmanship dominated substance.  The hors d'oeuvres kicked off in quiet, pre prime time featuring seven candidates who lacked sufficient poll numbers to make it to the main event.  The top ten, too, were relatively unknowns except for Jeb Bush who was trying for the "hat trick" of three of his family occupying the Oval Office and Donald Trump the current leader of the pack awash in media coverage.
The PGA Championship and the other major tour events bring together brilliant play and shot making, the highest levels of professionalism arising from gentlemanly civility and impeccable manners, rigid adherence to a universally accepted code of conduct that is drawn from a deep respect for the rules to standards of dress and camaraderie among competitors unique in sports.
This tournament played, on Pete Dye's diabolical masterpiece Whistling Straits, was fraught with anticipation.  Golf's number one player, Northern Ireland's Rory McIlroy, was returning to competition after a lengthy recovery from a broken bone.  Twenty-two year old superstar Jordan Spieth was in pursuit of winning a third major victory in a single year, last accomplished by legend Ben Hogan and more recently by Tiger Woods.
The Australian Jason Day was hunting his first major title after a heartbreaking loss at Chambers' Bay in the US Open when he had to battle vertigo and an ever so close finish in the British Open Championship played at St. Andrews in Edinburgh, the home of golf.  And the American Dustin Hoffman would show his grit recovering from a four over par eight on the first hole of the PGA final round, after missing a short birdie putt on number eighteen at Chambers Bay costing him the U.S. Open.
Spieth summed up all these qualities that separate golf from other sports.  On one of the early holes on the final back side after his playing partner Day hit his drive 385 yards, Spieth admitted that there was no way anyone could catch Jason. Indeed, Day's score of twenty under par was the lowest shot in any of major. And having won two majors earlier in the year, Spieth seemed very pleased with Day's first major victory.  Imagine this same magnanimity in boxing matches; football games; or other sports in which winning was everything.
It is pure imagination to wonder what would happen if politics followed golf in embracing these high and enduring standards of conduct and achievement.  Indeed, to many politicians, this question would be regarded as ranging from the absurd and naïve to the seriously uninformed.  As a first order of comparison, politics has fewer great men and women to enforce the standards of the profession.
In golf, enforcers are the greats and legends. In politics who are the Robert Jones, Arnold Palmers, Jack Nicklauses, Gary Players and dozens of others, young and old alike?  No serious golf professional would publicly wish ill will or failure on others in a tournament.  But Senate Majority Leader Mitch McConnell was deadly serious in setting his highest political aim making Barack Obama a one-term president.
Golfing etiquette calls for recognizing the great shots of competitors even in the hardest fought and most important matches. On losing a vital political contest such as an election or re-election or on critical legislation such as health care or the Iranian agreement on nuclear weapons, civility is missing in action.  Golf is the polar opposite.
A more frightening proposition turns this form of followship on its head.  Suppose golf followed politicians.  Coarseness would substitute for civility and sportsmanship.  And the values that have made and will continue to make golf great will be twisted from doing one's best to doing whatever it takes to win.
This would not be a good thing and the game of golf would surely suffer.